Clogged garbage disposal
Did you ever shock because of clogged garbage disposal? Did not you expect that it should happen one day? And do you think that you will not face this problem more than once? Let me tell that it's one of the most common problems in plumbing's world and you should not worry about it especially if you are a customer of our company who fully knows how to deal with such issues smoothly.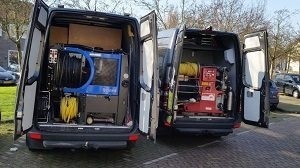 Leave it to us
Based on the reputation of this problem, in addition to that the issue seems easy to be solved; a lot of people try to solve clogged garbage disposal problems themselves and ignore hazards that can happen from water, electricity and blades. Honestly, we care about you and your life and we do not want either you or one of your family get harmed from any of these dangers things. So we kindly ask you to leave clogged garbage disposal issues to our expert plumbers at our company whom always threat these issues carefully.
We will fix and maintain
Our company provides to its customers a prompt fixing to clogged garbage disposal problems by checking all the external and internal drains from which the clogging comes from and repair it totally, we also offer a regular maintain after repairing it, as we always care about your satisfaction.
Whenever you have any clogged garbage disposal problems, leave it to us and contact our company.